About
Justin Vendette is a pianist/singer (and guitarist/singer) performing in the New England area in a variety of styles. From casual bar music to black tie affairs, Justin shapes his music style depending on the venue and its music preferences.
Having been performing locally in the New England area for 15 years, Justin will always provide the right kind of music for whatever event you're looking for. If you need a piano bar style atmosphere or an acoustic guitar/vocal combination, book Justin today! Contact: Steinway_49@yahoo.com
Bio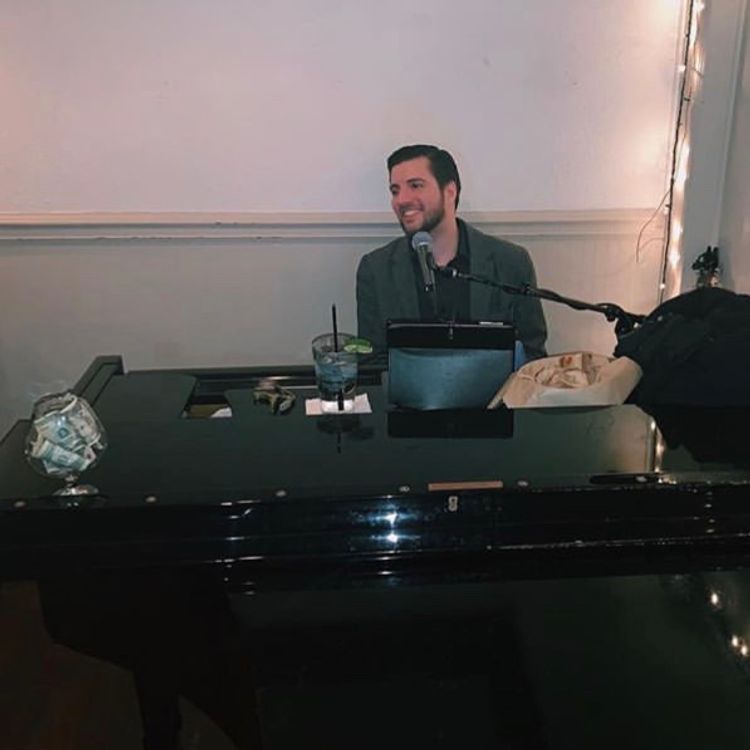 Justin Vendette
Classically trained jazz pianist performing pop music in piano bars...
Justin Vendette is a multi-instrumentalist performer and singer/songwriter with a strong focus in piano and vocals. Classically trained in piano, Justin received his bachelors in Jazz Piano Performance at Western Connecticut State University, yet you can find him playing Top 40/Popular/classic rock/indie/alternative music in piano bars!
You can often find Justin playing piano, guitar, and vocals for various events ranging from casual to black-tie affairs. Justin has performed over a hundred venues across Connecticut, New York, and Rhode Island. As a multi-instrumentalist, Justin offers his services in multiple roles such as solo pianist, jazz pianist, pianist+vocalist, guitarist+vocalist, and wedding pianist.
Lessons
Zoom Piano Lessons
Zoom Piano Lessons are now available online! This option is beneficial to those with a busy schedule in need of budgeting their time, allowing you to efficiently learn piano in the convenience of your own home. With an overhead view of the keyboard, Justin can demonstrate and teach exactly the same concepts you would learn as if you were physically in the same room.
Lessons are offered for all levels from beginner to advanced in a variety of subjects including classical, jazz, rock/pop, composition, and advanced music theory.
Available lesson time slots are: 30 mins ($30), 45 mins ($40), and 60 mins ($50).
30 minutes - $30
45 minutes - $40
60 minutes - $50
Not sure if you're going to like it? THE FIRST LESSON IS FREE, so you can get a feel for what a regular lesson is like and decide whether you'd like to continue.
Payment accepted via Paypal or Venmo.
What you'll need:
Zoom (Skype is also fine)
A webcam / laptop camera
Wifi / Internet connection
A piano / keyboard
A Piano Method book (Unless you already have one)
Supplemental material IS provided at no extra charge. Assignments are scheduled weekly with the expectation that you are prepared and ready to continue onto new concepts! 
Book your lessons today! Contact Justin at Steinway_49@yahoo.com !
Add a heading
Add a subheading
Your short bio text here.